The Pender Public School District is working to construct a complex that will include a track, football field, softball / youth baseball field, and the infrastructure necessary for a complex of this nature (grandstands, concessions, restrooms, etc.). The complex will be located just north of David Nitzschke Memorial Baseball Field. The project will cost between $3 and $4 million with the largest variable in that range being the surface of the football field. A natural grass surface will result in a final cost on the low end of the price range, while an artificial turf surface will result in a final cost on the high end of the price range.
On May 25, 2021, the first phase of construction of the Pendragon Sports Complex started!! On May 10, 2021, the Board of Education voted to accept a bid from ME Collins to complete the first phase of the project. The initial phase of the project is nearing completion! Several key components of the complex will be finished very, very soon. This is extremely exciting for the school and community. The components of the Pendragon Sports Complex will provide Pender Public Schools and the Community of Pender with facilities that have been missing for too long.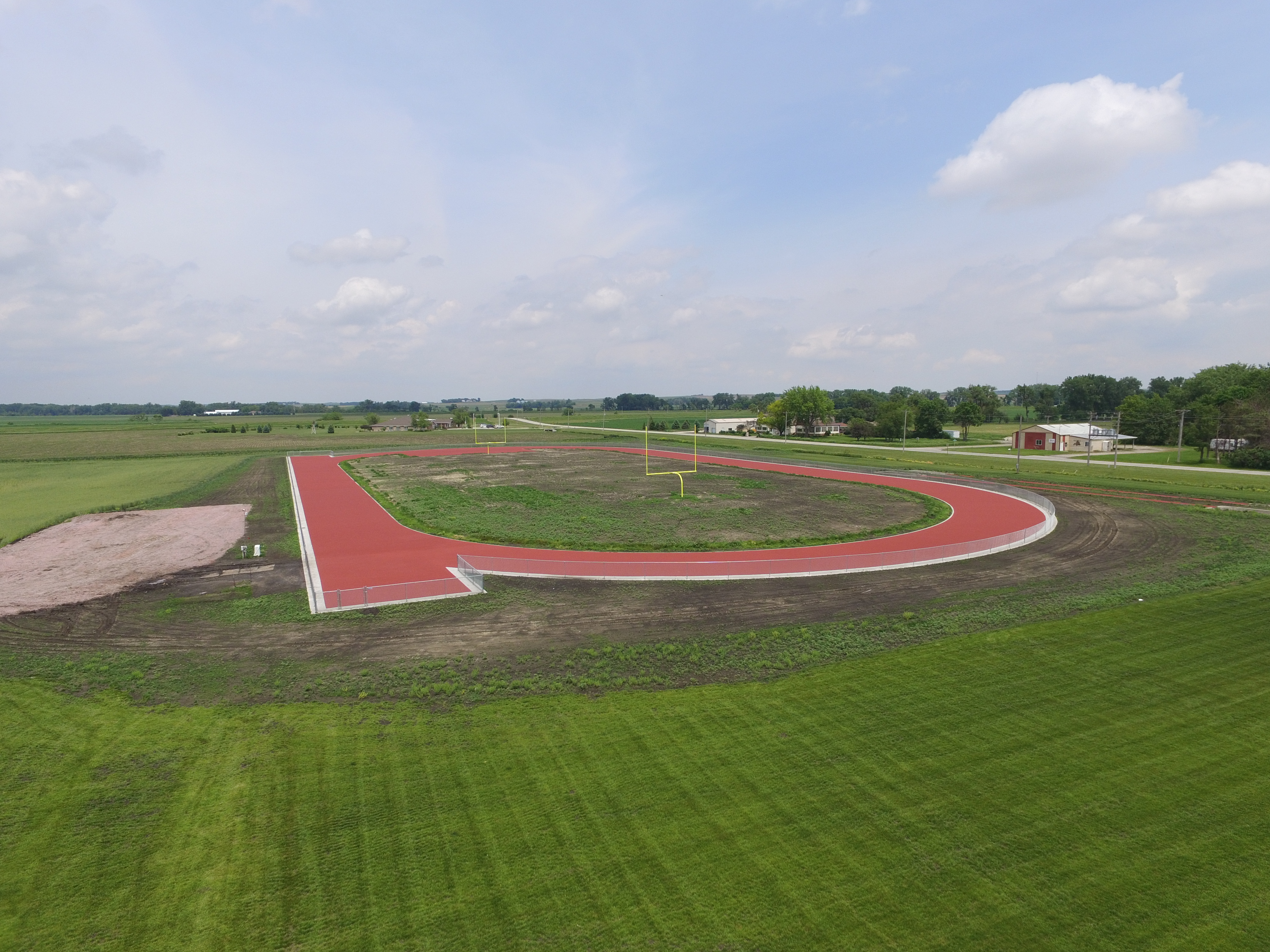 Included in the $1,301,436.60 initial phase is an 8-lane competition track, a fence around the track, 2 long/triple jump runways with pits on each end, 1 discuss pad and throwing area, 2 shot put pads and throwing areas, grading and dirt work for the entire 20 acres of property for the complex, temporary detention areas needed to mitigate flooding, underground sprinklers inside of the track, electrical infrastructure, water infrastructure, sewer infrastructure, a driveway, and a small parking area. Not included in the first phase of the project are components that will allow the facility to be used for competition purposes and complete the entire project. Missing pieces include grandstands, field lighting, scoreboard, press box, restrooms, concession stand, storage building, parking large enough for competition purposes, softball / youth baseball field, and a few other key infrastructure items. The missing items are estimated to cost around $2,000,000.
The original plan for the Pendragon Sports Complex was to construct it primarily with donated money. That plan was developed in the months that led up to the pandemic. Prior to the pandemic, $134,550 had been raised for the project. When the pandemic hit, fundraising for the project ceased for obvious reasons. As the pandemic progressed, it became evident that a new plan was needed. PPS decided to utilize the $134,550 in donations and District funds to get the project started. Phase 1 of the project was the result, which is underway and should be finished in the Fall of 2022!!
The plan to complete the remainder of project is to raise the funds needed for everything not included in the first phase. That process has begun. To date (June 23, 2022), the fundraising total for everything after the first phase is $392,381.89. This is about 20% of what is targeted to be raised. Fundraising efforts have been underway for about one year, and the progress that has been made is very promising! That said, there is a long way to go.
In order to complete the project, a fundraising drive will continue. Anyone with an interest in Pender Public Schools, the Community of Pender, or the Pendragon Sports Complex is encouraged to consider donating. Donations of all sizes are important, appreciated, and accepted.
All donations enjoy full tax benefits. In other words, a donation to this project would have the same result as a donation to any charitable organization. Donations can also be made in various ways and over time. If desired by the donor, donations can be divided over as many as 60 months. Along with that, gifts of grain, in kind donations, and other forms of donating are welcomed, encouraged, and greatly appreciated.
Donors who meet certain thresholds will be honored on site with special recognition. Below are the donation levels that will be recognized. The manner in which those donations will be recognized has not been finalized. Donors should know, however, the recognition strategy will be tactful, classy, and eye-catching. In other words, it will be done right!
| | |
| --- | --- |
| Champion | $500,000 + |
| Gold Medal | $250,000 - $499,999 |
| Grand Slam | $100,000 - $249,999 |
| Touchdown | $50,000 - $99,999 |
| Silver Medal | $25,000 - $49,999 |
| Home Run | $10,000 - $24,999 |
| Field Goal | $5,000 - $9,999 |
| Bronze Medal | $2,500 - $4,999 |
| First Down | $1,000 - $2,499 |
Help move Pender Public Schools toward the goal of giving Pender High School track and field athletes their own practice and competition facility for the first time in school history! Help enhance the experiences of playing and watching events in Pender for other sports like football, baseball, and softball! Help provide an amenity to those living in and around Pender to use for recreational purposes as well as to improve their health and well being!
Anyone with questions is encouraged to contact Pender Public Schools Superintendent Dr. Jason Dolliver. He can be reached via email at jadolli1@penderschools.org, phone at (402) 385-3244, or in person at the school.
Let's do something special! Let's make this dream a reality! If any community can make it happen, Pender is that community!